Description
Great Preamp, Amazing Value
Many Sweetwater engineers prefer mic preamps that do something. And no, we're not talking about boosting gain — they all do that. We're talking about making your signal sound better. Character. Coloration. Whatever you want to call it, it's that inimitable sonic quality that the most coveted classic consoles and outboard gear had. Warm Audio's WA12 MKII preamp has it, shaping your sound with an exciting, vibey warmth that makes any vocal or instrument sit proudly in your mix. We dig the Warm Audio WA12 MKII, and — especially considering its gentle price tag — we're sure you will, too.
Related Videos:

 WA12 MKII Microphone Preamp - Black
Coloration — and why you want it
The most coveted vintage consoles and outboard gear weren't transparent. And that's the point behind the Warm Audio WA12 MKII. Coloration is, in many cases, desirable. If your mixes sound unprofessional, lacking in vibrancy and depth, you'll adore the WA12 MKII. Subjective listening tests played a big part in the development of this amazing preamp. Test equipment can tell you only so much, and there's a point in the design process where you've got to let your ears call the shots. You wouldn't mix with earplugs and an oscilloscope, would you?


Impedance switching gives you sonic versatility
Warm Audio equipped the WA12 MKII with a secret weapon: a Tone button that switches the input impedance from 600 to 150 ohms. Pushing this button changes the tone of both the mic and hi-Z inputs, letting you individually optimize for each of your microphones and giving you a measure of sonic versatility without having to resort to EQ. And speaking of mics, with 71dB of gain, the WA12 MKII has enough on tap to handle your favorite ribbon mics.
Top-tier performance — amazing value
At Sweetwater, we understand that outfitting your studio is a balancing act between performance and value. Warm Audio gets that, and their WA12 MKII delivers on both counts. In spite of its ultra-reasonable pricing, Warm Audio gear is made using only the finest components like genuine Cinemag input and output transformers. Look at it this way: at this price, you can pack your rack with two or more WA12 MKII preamps — a capital idea if you record live drums or more than one track at a time.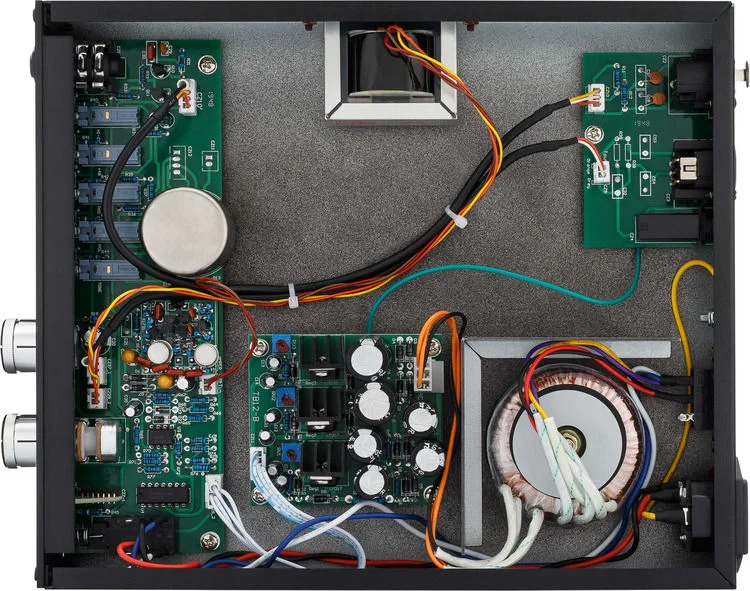 Warm Audio WA12 MKII Mic/Instrument Preamp Features:
Fully discrete design with a robust 71dB of gain to power all your mics — even ribbons
High-voltage X731 operational amplifier, based on the classic Melcor 1731
Tone button gives you tonal versatility by switching input impedance from 600 to 150 ohms
48-volt phantom power, 20dB pad, and polarity invert switches
Mic level balanced input: XLR or 1/4″ TRS
Balanced outputs: XLR and 1/4″ TRS
2 Mohms true hi-Z input on front panel — great for guitars, bass, keyboards
Custom-designed Cinemag input and output transformers
LED gain indicator