Introducing the pocket sized Super 16 digital film camera that's small enough to keep with you at all times, so you'll never miss a shot!
Get true digital film images with feature film style 13 stops of dynamic range, Super 16 sensor size, high quality lossless CinemaDNG RAW and Apple ProRes recording and the flexibility of an active Micro Four Thirds lens mount, all packed into an incredibly tiny size!
The Blackmagic Pocket Cinema Camera records 1080HD resolution ProRes 422 (HQ) files direct to fast SD cards, so you can immediately edit or color correct your media on your laptop.
Blackmagic Pocket Cinema Camera is everything you need to bring cinematic film look shooting to the most difficult and remote locations, perfect for documentaries, independent films, photo journalism, music festivals, ENG, protest marches and even war zones.
Super Large Touchscreen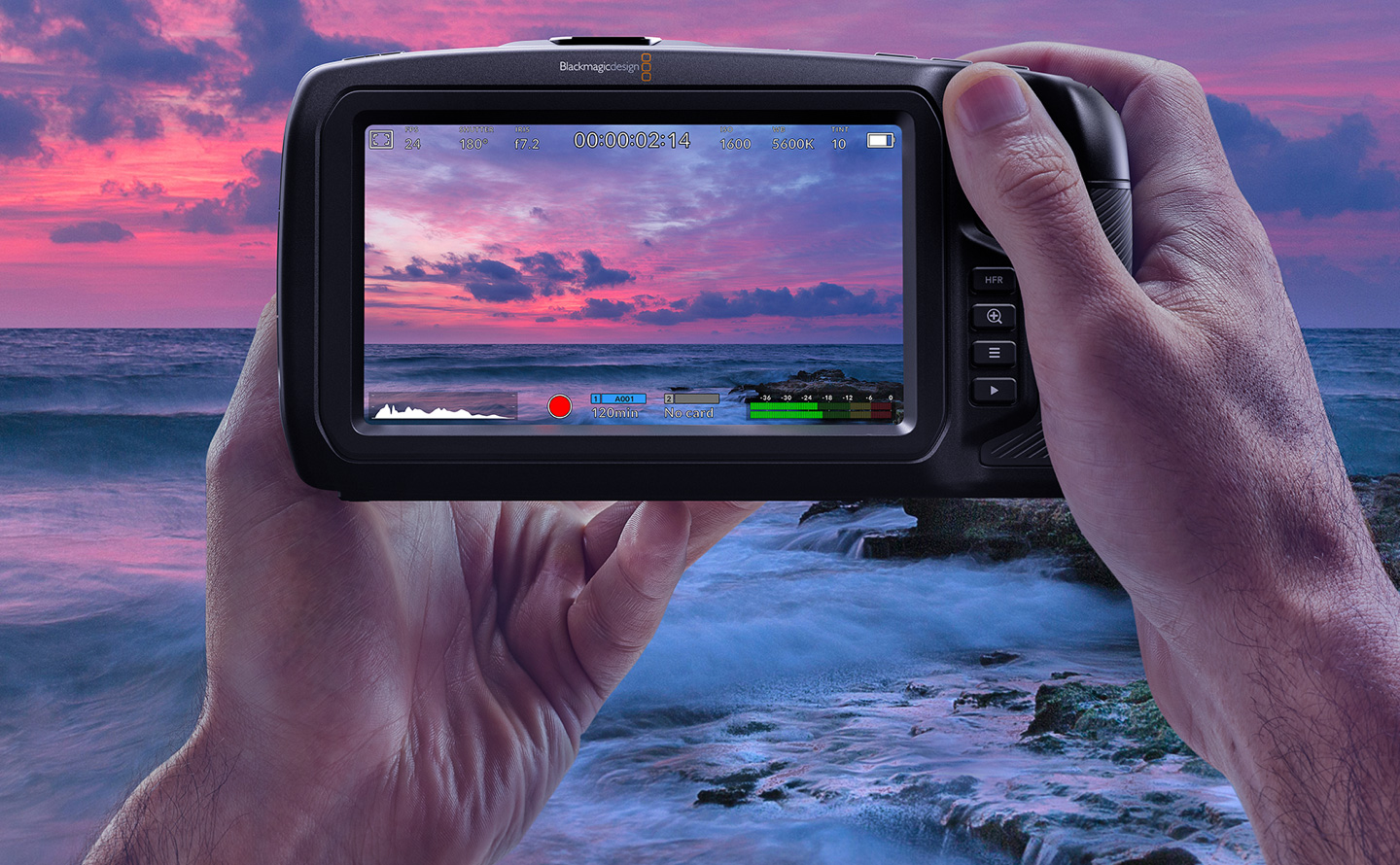 Large and bright 5" touchscreen makes focusing fast and easy!
The back of the Blackmagic Pocket Cinema Camera 4K features a super bright, large 5 inch touchscreen. This makes it easy for you to frame shots and accurately focus, without having to carry around an external monitor or viewfinder!
You get the same menus and interface found on URSA Mini cameras, including on screen overlays for recording parameters, status, histogram, focus and peaking indicators, and playback controls. In addition, you can apply 3D LUTs so you can monitor the shot with the desired color and look.
Not only can you use the 3D LUT for monitoring, it can even be baked into the recorded footage. There's even a speaker located near the screen, which makes it easy to quickly play back and review shots on set!
Includes DaVinci Resolve Studio

Professional editing, visualeffects,
 

color correction and audio post!

The Blackmagic Pocket Cinema Camera 4K includes a full version of DaVinci Resolve Studio, which is a complete post production solution. You get the world's most advanced solution that combines professional editing, color correction, audio post and visual effects all in one software tool! DaVinci Resolve is used to finish more Hollywood feature films than any other solution, so you'll get the best possible post production tools to edit native video from your camera and retain every bit of quality. Whether you're working on major Hollywood feature films, episodic television productions, music videos, commercials or even the latest YouTube shoot, DaVinci Resolve Studio gives you a completely lossless workflow for native editing, color correction, effects, audio and delivery, so your video always looks as good as possible!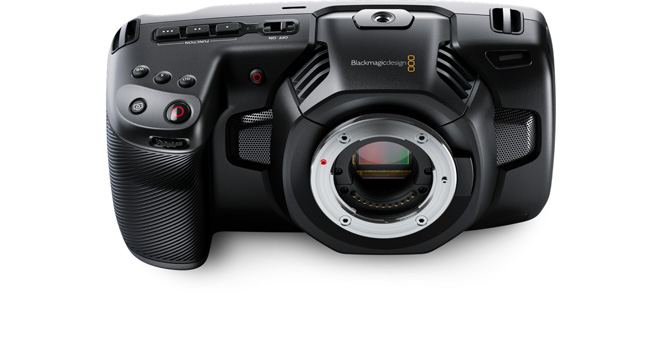 Camera Features
Effective Sensor Size
18.96mm x 10mm (Four Thirds)
Lens Mount
Active MFT mount.
Lens Control
Iris, focus and zoom on supported lenses.
Dynamic Range
13 Stops.
Dual Native ISO
400 and 3200
Shooting Resolutions
4096 x 2160 (4K DCI), 3840 x 2160 (Ultra HD), 1920 x 1080 (HD).
Frame Rates
Maximum sensor frame rate dependent on resolution and codec selected. Project frame rates of 23.98, 24, 25, 29.97, 30, 50, 59.94 and 60 fps supported.
Off-speed frame rates up to 60 fps in 4K DCI, 120 fps in HD windowed.
Focus
Focus button turns on peaking, auto focus available using compatible lenses.
Iris Control
Iris wheel and touchscreen slider for manual iris adjustment on electronically controllable lenses, iris button for instant auto iris settings on compatible lenses so no pixel is clipped in film mode. Scene average auto exposure in video mode.
Screen Dimensions
5" 1920 x 1080.
Screen Type
LCD capacitive touchscreen.
Metadata Support
Automatically populated lens data from electronic Micro Four Thirds lenses. Automatic recording of camera settings and slate data such as project, scene number, take and special notes.
Controls
Touchscreen menus on 5 inch screen. 1 x Power Switch, 1 x Record Button, 1 x Stills Button, 1 x Scroll Wheel with push integrated into handgrip, 1 x ISO Button, 1 x White Balance, 1 x Shutter Button, 3 x software configurable Fn buttons, 1 x High Frame Rate (HFR) Button, 1 x Zoom Button, 1 x Menu Button, 1 x Play Button, 1 x Focus Button and 1 x IRIS Button.
Connections
Total Video Inputs
None.
Total Video Outputs
1 x HDMI Type A
Analog Audio Inputs
1 x mini XLR analog switchable between mic with phantom power support and line level (up to +14dBu). 
1 x 3.5mm Stereo Input. Can also be used for Timecode input.
Analog Audio Outputs
1 x 3.5mm headphone jack.
Computer Interface
USB Type-C for external drive recording, software updates and media download.