Description
Blackmagic Pocket Cinema Camera 4K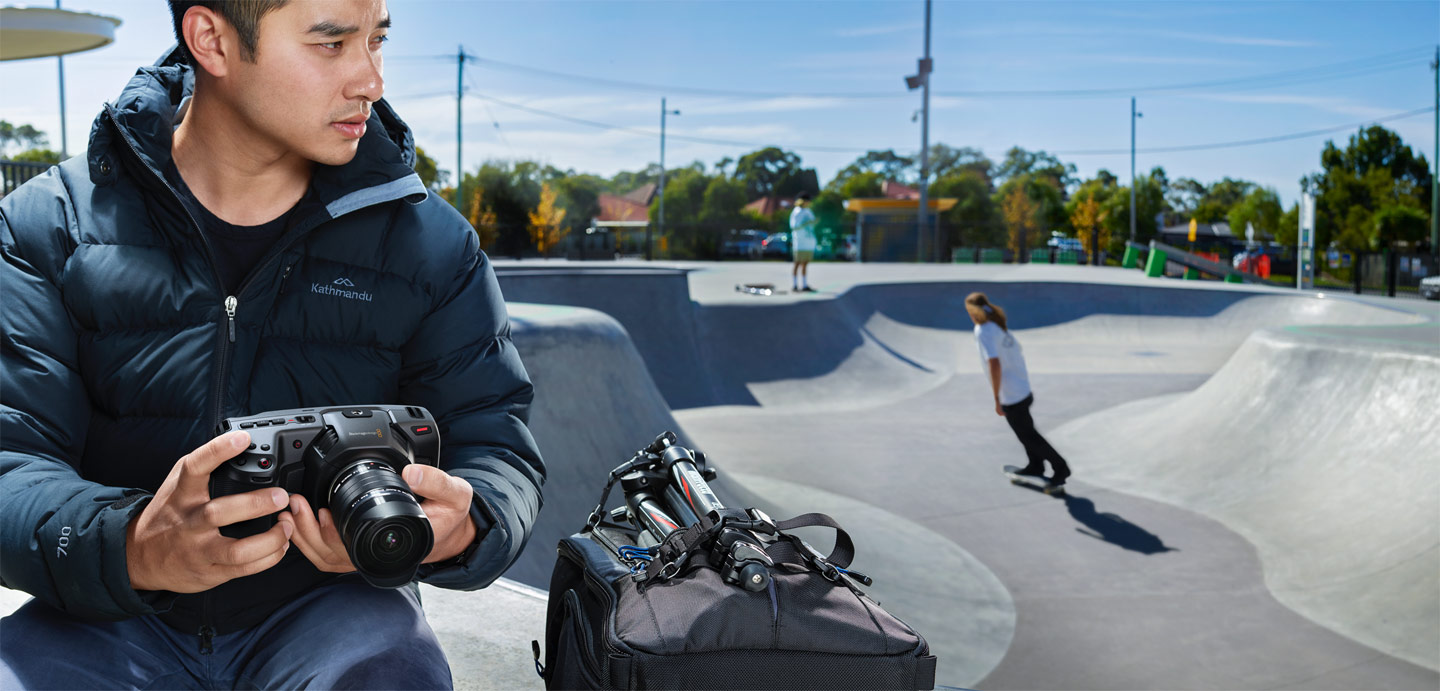 The revolutionary new Blackmagic Pocket Cinema Camera 4K is the camera you've been asking for! It features an all new handheld design that puts the latest advanced digital film technology into the palm of your hand! The Blackmagic Pocket Cinema Camera 4K has a 4/3 size sensor, 13 stops of dynamic range and dual native ISO up to 25,600. That means you get stunning HDR images and incredible low light performance! The external controls give you quick access to essential functions, while the large 5 inch touchscreen makesit easy to frame shots, focus accurately and changecamera settings. Images are recorded ontostandard SD/UHS-II or CFast 2.0 cards in Blackmagic RAW and ProRes at up to 120 frames per second! In addition, the Blackmagic Pocket Cinema Camera 4K has an MFT lens mount, built-in microphones, mini XLR input, full sized HDMI, 3D LUT support, Bluetooth, USB-C Expansion Port and more!

The Black Magic Pocket Cinema Camera is bringing the power of cinema right to your hands with this impressive movie camera. The Pocket Cinema Camera 4K is revolutionizing the camera industry with a Four Thirds sensor, 13-stops of dynamic range and dual native ISO up to 25600.

Elegant Modern Design
Designed to be portable,packed
with features and fully expandable!
The portable handheld design of the Blackmagic Pocket Cinema Camera 4K gives you incredible mobility without sacrificing features. The highly compact form factor features a carbon fiber reinforced composite body that makes it extremely durable and lightweight so you can take it anywhere. You get a super bright 5" screen, 4 built in microphones, built in recorders and external buttons and dials that give you fast access to the most important functions. That means you can quickly check framing and focus, capture audio andrecord your files without having to carry around extra monitors, microphones, recorders and cables. You also get lots of mounting points, a mini XLR input with phantom power, Bluetooth control and more. With the Blackmagic Pocket Cinema Camera 4K you get a fully featured portable digital film camera that's flexible and expandable!
4K Digital Film Sensor
The Blackmagic Camera features a full size 4/3 sensor that gives you an incredible 4096x2160 video resolution with a full 13 stops of dynamic range for excellent digital film quality. The 4/3 sensor reduces crop factor to give you a wider field of view. Dual native ISO of up to 25,600 gives you fantastic low light performance. High speed action is no match for this camera thanks to recording of up to 60 fps at 4K of up to 120 fps in HD.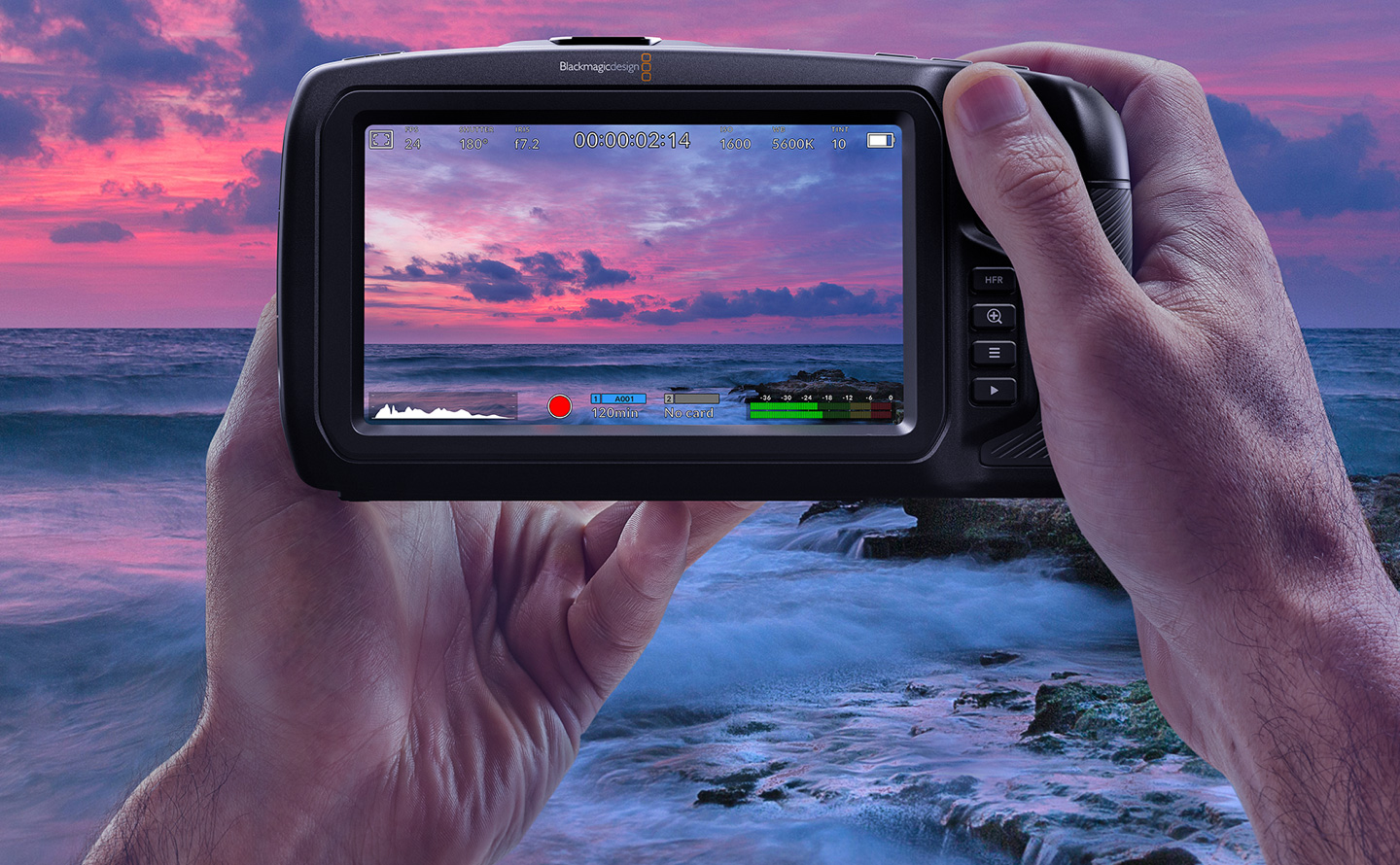 Super Large Touchscreen
Large and bright 5" touchscreenmakes focusing fast and easy!
The back of the Blackmagic Pocket Cinema Camera 4K features a super bright, large 5 inch touchscreen. This makes it easy for you to frame shots and accurately focus, without having to carry around an external monitor or viewfinder! You get the same menus and interface found on URSA Mini cameras, including on screen overlays for recording parameters, status, histogram, focus and peaking indicators and playback controls. In addition, you can apply 3D LUTs so you can monitor the shot with the desired color and look. Not only can you use the 3D LUT formonitoring, it can even be baked into the recorded footage. There's even a speaker located near the screen, which makes it easy to quickly play back and review shots on set!
Highly Advanced
With 3 different kinds of media to record from, this 4K camera lets you choose between standard SD cards, UHS-II cards, or CFast 2.0 cards. You can even record directly onto an external SSD using the built-in USB-C Expansion Port. The Blackmagic OS is the world's most advanced camera operating system. Built-in microphones give you professional high fidelity audio recording. With the ultra-bright 5" screen, 4 built-in microphones and recorders, and dynamic button controls, you will have all the tools you need to ensure a smooth production.
MFT Lens Mount
Compatible with your current lenses!
The Blackmagic Pocket Cinema Camera 4K uses the same MFT (micro four thirds) lens mount as the original Pocket Cinema Camera so you can use the lenses you already have! The MFT lens mount was designed specifically for smaller camera bodies with shorter flange focal distance. This means you can get high quality professional lenses that are much smaller than ever before! The MFT mount is extremely flexible and allows for different lens adapters. You can get adapters for PL, C, EF and more, so you can use lenses from manufacturers such as Canon, Nikon, Pentax, Leica and even Panavision!