Now in a smaller, more handheld-friendly form factor, the URSA Mini 4.6K Digital Cinema Camera from Blackmagic Design can record cinematic images with its Super-35mm 4.6K, sensor with 15 stops of dynamic range.
The ergonomic body design is balanced and can be used for many different styles of filmmaking. The EF-Mount is compatible with a plethora of popular lenses, opening different aesthetic options. A rosette on the side of the camera accepts the included side handle, which can control Start/Stop via a LANC connection.



To produce cinematic images, the URSA Mini can record raw sensor data in the CinemaDNG format onto CFast 2.0 memory cards at up to 60 fps. The raw files preserve the full dynamic range and color tonality output from the sensor, so you can have greater control over the look in post-production.
However, data-heavy uncompressed raw files aren't always easy to deal with on set, so in addition to uncompressed raw recording, the 4.6K URSA Mini provides compressed raw recording at 3:1 and 4:1 compression ratios to save space while retaining post-production flexibility.
Highly Customizable
Flexible enough to be rigged for any production

Blackmagic URSA Mini cameras are completely customizable so you can create a rig that's built specifically for your production! You can add accessories like the Blackmagic URSA Viewfinder, URSA Studio Viewfinder, URSA Mini Shoulder Kit and URSA Mini Mic Mount, or choose from hundreds of third party accessories. URSA Mini and URSA Mini Pro have 9 standard ¼" threaded mounting points on the top and bottom of the camera so you can mount it directly to a tripod as well as add accessories such as rails, sliders, matte boxes, microphones, ring lights, batteries and more. Whether you're building a feature film rig or outfitting the camera for an ENG style shoot, URSA Mini has all of the mount points and connections you need!
High Resolution Viewfinder
Full HD display and glass optics makes precise focus easy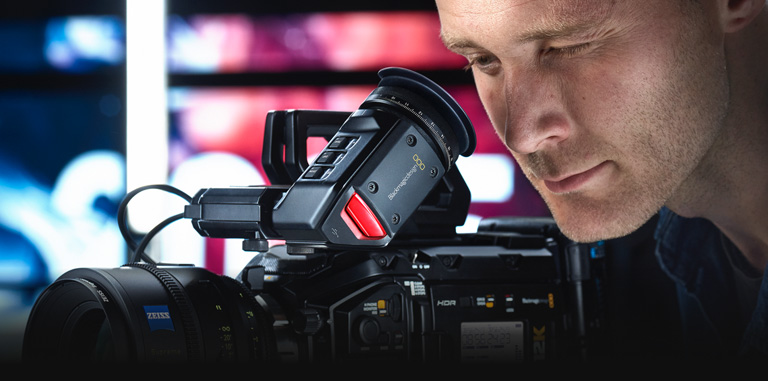 The optional Blackmagic URSA Viewfinder is designed to be the perfect match for URSA Mini Pro and URSA Mini cameras. You get a high resolution 1920 x 1080 color OLED display matched with precision glass optics, adjustable diopter and built in digital focus chart so you get perfect focus every time. To preserve OLED screen life, there's a built in sensor so the OLED only turns on when you're looking through the viewfinder. The Blackmagic URSA Viewfinder is adjustable so it can be used on both the left or the right eye. There's even a built in record light!
Professional Connections
Full size, durable connections that work with standard cables
Blackmagic URSA Mini Pro features multiple connections such as 12G‑SDI out, HD-SDI monitoring out, 2 LANC inputs, balanced XLR audio with phantom power, timecode in and reference input. On the front right side of the camera is a 12 pin Hirose control connector for broadcast lenses. There's also a 4 pin XLR DC and an HD-SDI monitoring output that are located in the perfect position for connecting an optional viewfinder or on set monitor. The 12G‑SDI output handles all formats up to 2160p60 using a single BNC cable, and also switches to 6G-SDI or HD-SDI depending on the shooting format.